A new Collectors Edition for Halo Infinite was revealed recently, and…oh, it's already gone.
Fans of collecting Halo gear may be disappointed to hear that a new Collectors Edition was available on Walmart, only for people to instantly buy all the stock.
The Collectors Edition featured a steelbook case for the game, an illuminated energy sword, a plasma pistol bottle opener, art book and even more extras. The product was very limited, with only 10,000 units available. It was available for a very brief period on Walmart's website before all 10,000 products were snapped up.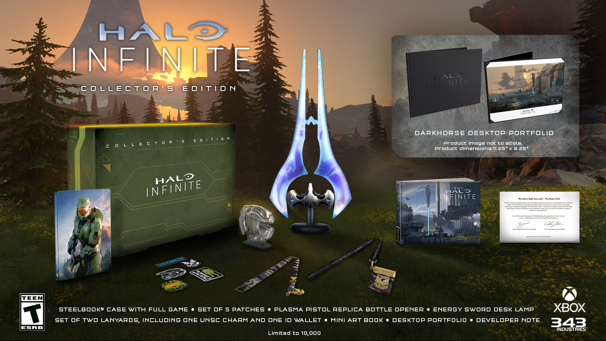 Not Quite Infinite
The Collectors Edition was gone before most people knew it was even available. It's possible a large amount of these buyers grabbed it with the intention of selling it later for a higher price.
Predictably, there were no measures put in place to stop resellers from absorbing all the stock. This meant that many people have missed out on getting their own Halo Infinite Collector's Edition. Most Halo games have a Collector's Edition, and some fans look forward to getting their hands on the latest one whenever a new game comes out. But for many, they might have already missed their chance.
This isn't the first time resellers have ruined people's chances at getting a hold of an item. In fact, it's been going on for years, particularly after the release of the PS5 and Xbox Series X. A worldwide chip shortage has also contributed to shortages in consoles and other items, but resellers certainly aren't helping customers either.
Halo Infinite releases on December 8th, and it already looks like it could be a return to form. We'll have to see how the game holds up when we get our hands on it soon.
What do you think about the Halo Infinite Collector's Edition? Let us know on social media!
Shop With GameByte!
Don't forget you can find some of these great games and more through the new GameByte Shop! The GameByte Shop is stocked up with the latest games, merch and accessories. We might even have a new-gen console or two! Sign up to our newsletter to be notified of our console drops. Please note the GameByte Shop is available for UK customers only.
Featured Image Credit: 343 Industries