If you're a fan of No Man's Sky and you're looking for new games just like it to play, here are some of the best ones that you can play right now.
Whether you're looking for some sci-fi adventures or you're eager to get exploring mysterious worlds, these games should be great choices.
Astroneer
Astroneer is a great sci-fi adventure with some fun exploration and a lot of things to build. There aren't too many hostile threats at first, but Astroneer lets you explore different planets with their own set of increasingly-difficult dangers. To survive, you'll need to build vehicles, facilities and paths to help you traverse each planet. It's more technical than No Man's Sky in some ways, but has a similar vibe. However, it's a bit less ambitious in scope and has a much more stylised look.
Subnautica
Subnautica is the ultimate single-player survival game. You have no real weapons, and you're stranded on an alien planet underwater. It's equal parts awe-inspiring and terrifying. The discoveries that await you in the deep are worth keeping secret, so go in blind if you can. What you'll find is a fascinating game that nails the survival adventure feel better than almost any game out there. It has impeccable atmosphere and does a great job of making you feel truly alone in an alien world.
Mass Effect Trilogy
Most people have heard of these games, but the Mass Effect Trilogy is easily one of the best sci-fi sagas in gaming. Your choices from one game carry over to the next, building the story with meaningful decisions as you play. The combat is fun and satisfying, and there's a lot of world-building and character development going on in the Mass Effect universe. You may not have as much freedom to explore every corner of the universe as other games, but it's a brilliant adventure all the same.
Satisfactory
If you're looking for something more technical, you can't do much better than Satisfactory. In this game, sci-fi exploration is combined with industry in a huge factory-building experience. Things start slow, but as you expand and grow your factory you'll soon be keeping track of hundreds of things at once. Essentially, you're turning a strange planet into your own massive network of power plants, conveyor belts, foundries, railways and more. Once you wrap your head around its systems, Satisfactory is an enthralling game.
Valheim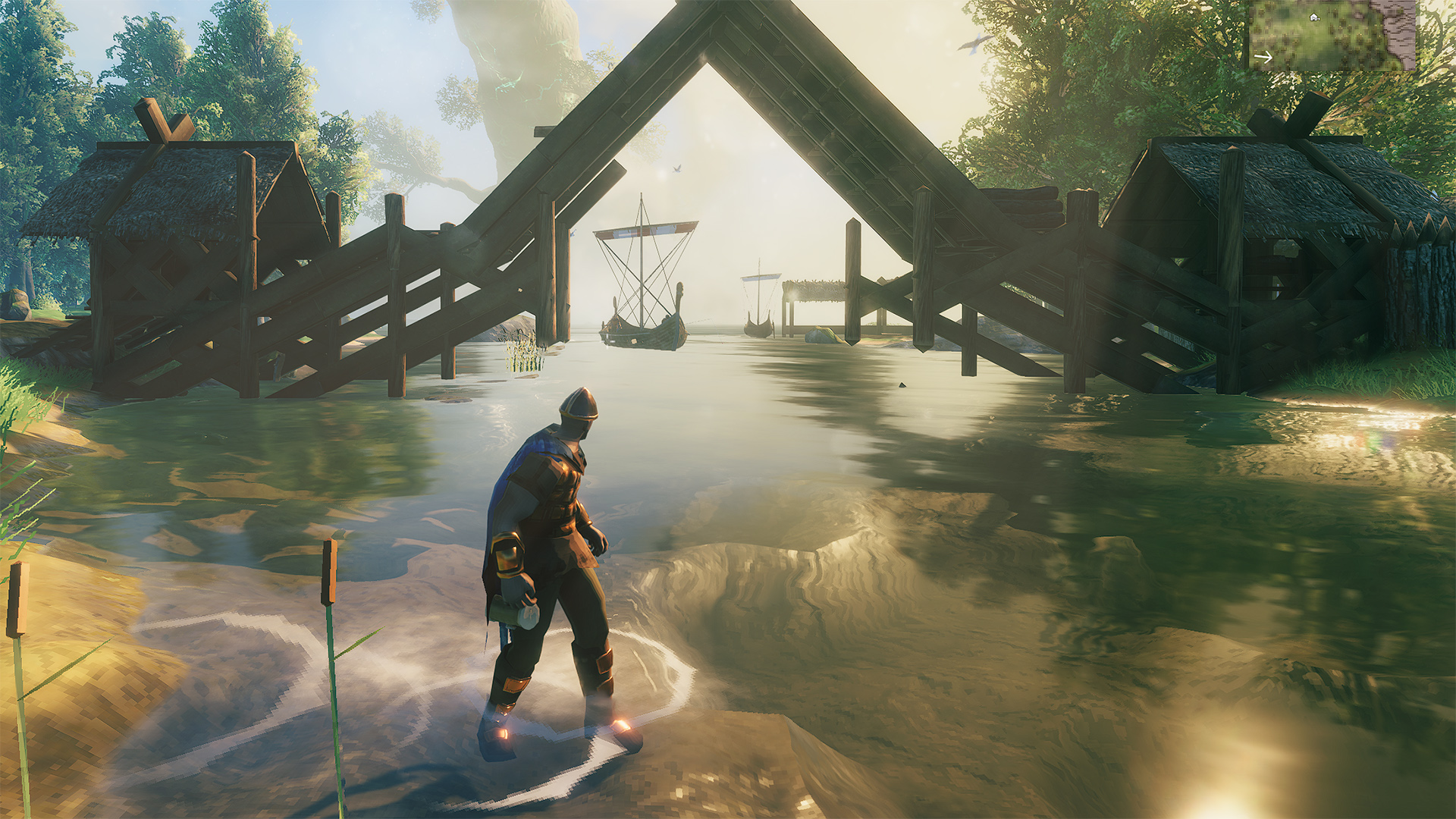 This one isn't a sci-fi adventure, but I can't recommend it enough. If exploration is what you're looking for, few games offer a sense of discovery like Valheim. It's a bit of a slow burn, but that makes building your own settlement all the more rewarding. Travelling to distant lands across the seas, unaware of what awaits you, is a wonderful (and sometimes terrifying) experience. If you don't mind ditching outer-space, you'll find a lot to like in this awesome survival game – and you can play it with friends too!
Looking for some other games to play? We've also collected similar games to Minecraft, Breath of the Wild, Dark Souls, Halo, and Assassin's Creed.
Have you played any of these games like No Man's Sky? Let us know on social media!
Shop with GameByte!
Don't forget, you can find some of these great games and more through the new GameByte Shop! The GameByte Shop is stocked up with the latest games, merch and accessories. We might even have a new-gen console or two! Sign up for our newsletter to be notified of our console drops. Please note the GameByte Shop is available for UK customers only.
[Featured Image Credit: Hello Games]