League of Legends and PUBG Mobile are crossing over in a surprising new collaboration.
Riot Games has been going all out to promote its new Netflix show, Arcane. And now, it's even crossing over with other games for the first time ever, the first being PUBG Mobile.
The companies behind each game announced the collab on Tuesday, with a trailer showing PUBG characters in the Arcane animation style. A new image shows various League of Legends characters on the PUBG battlefield.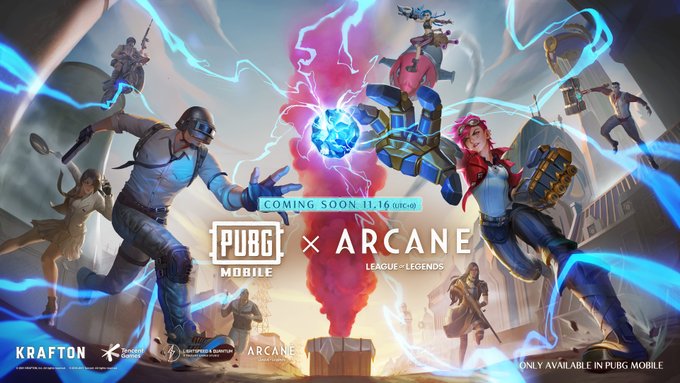 The characters shown are Jinx, Vi, Caitlyn and Jayce, all from League of Legends. These are all characters set to appear in the Netflix show Arcane, which premieres on November 6th. We don't know exactly what this collaboration will include, but it's safe to assume these characters and their weapons will be a part of it.
The new content is expected to arrive in the game on November 16th. This matches up with Patch 1.7 for the game.
This is the first time Riot has allowed another company to use League of Legends characters, but it might not be the last. There's been a lot of speculation about a collaboration with Fortnite too. Leaks have showed that Jinx might be coming to the game, but there hasn't been any official confirmation yet. We'll have to wait and see what happens.
What are your thoughts on this crossover? Let us know on our social media channels!
Don't forget you can find great games and more on the GameByte Shop! Our store is stocked up with the latest games, merch and accessories. We might even have a new-gen console or two! Sign up to our newsletter to be notified of our console drops, deals and more. Please note the GameByte Shop is available for UK customers
Featured Image Credit: Riot Games