Stalker 2: Heart of Chernobyl will no longer have NFTs as the developer cancels plans to include auctions and in-game 'metahumans'.
The announcement comes just one day after the initial NFT news came out. Players instantly rejected the idea of NFTs in the game, and GSC Game World immediately backtracked.
However, in a bizarre turn of events, the company was defending its use of NFTs mere hours before the news of their removal. The studio posted a lengthy explanation to justify NFTs in Stalker 2, only for a new statement to contradict it entirely.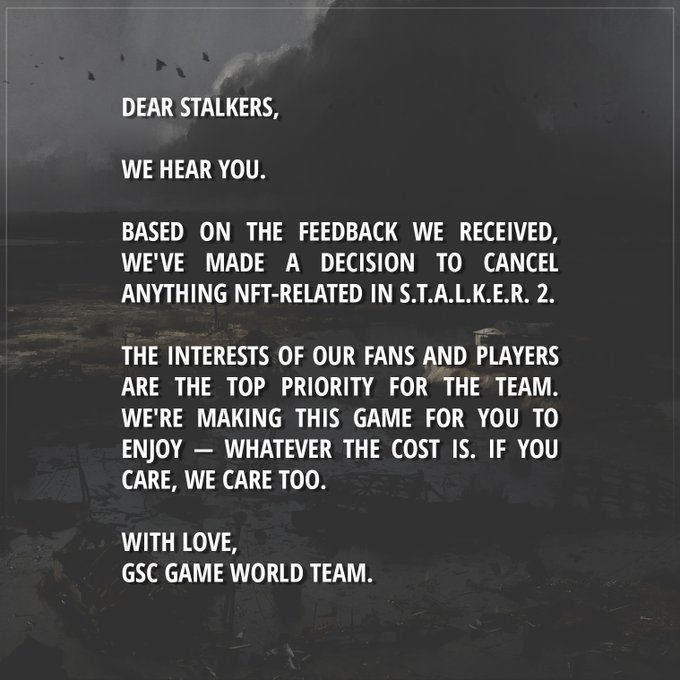 The statement reads, "Based on the feedback we received, we've made a decision to cancel anything NFT-related in S.T.A.L.K.E.R. 2. The interests of our fans and players are the top priority for the team. We're making this game for you to enjoy — whatever the cost is. If you care, we care too."
NFT Backtrack
The studio has now deleted the initial tweet defending NFTs. Fans expressed disappointment and concern for the direction the game was heading in with NFTs, and it seems the developers realised it was probably a bad idea.
Originally, people would have been able to bid on owning the right to become an NPC in the game. Or, in their words, to become a 'metahuman'. Their likeness would be used for the character, but they would have been able to sell the NFT before a certain date.
It's safe to say Stalker fans didn't react well. Some reacting to the initial story on social media even said they'd lost interest in playing the new game. Thankfully the developers have done the right thing and listened to the fans.
What do you think about Stalker 2 no longer having NFTs? Let us know on our social media channels!
Shop with GameByte!
Don't forget, you can find some of these great games and more through the new GameByte Shop! The GameByte Shop is stocked up with the latest games, merch and accessories. We might even have a new-gen console or two! Sign up for our newsletter to be notified of our console drops. Please note the GameByte Shop is available for UK customers only.
Featured Image Credit: GSC Game World