This year's Battlefield title is being developed by four different studios, making it the largest development team in the history of the franchise.
The four teams working on the game are DICE Stockholm, DICE Los Angeles, Criterion Games and EA Gothenburg. DICE Stockholm usually heads up the Battlefield projects, while DICE LA acts as a support team. For example, DICE LA were responsible for much of Battlefield 4's post launch support [via Polygon]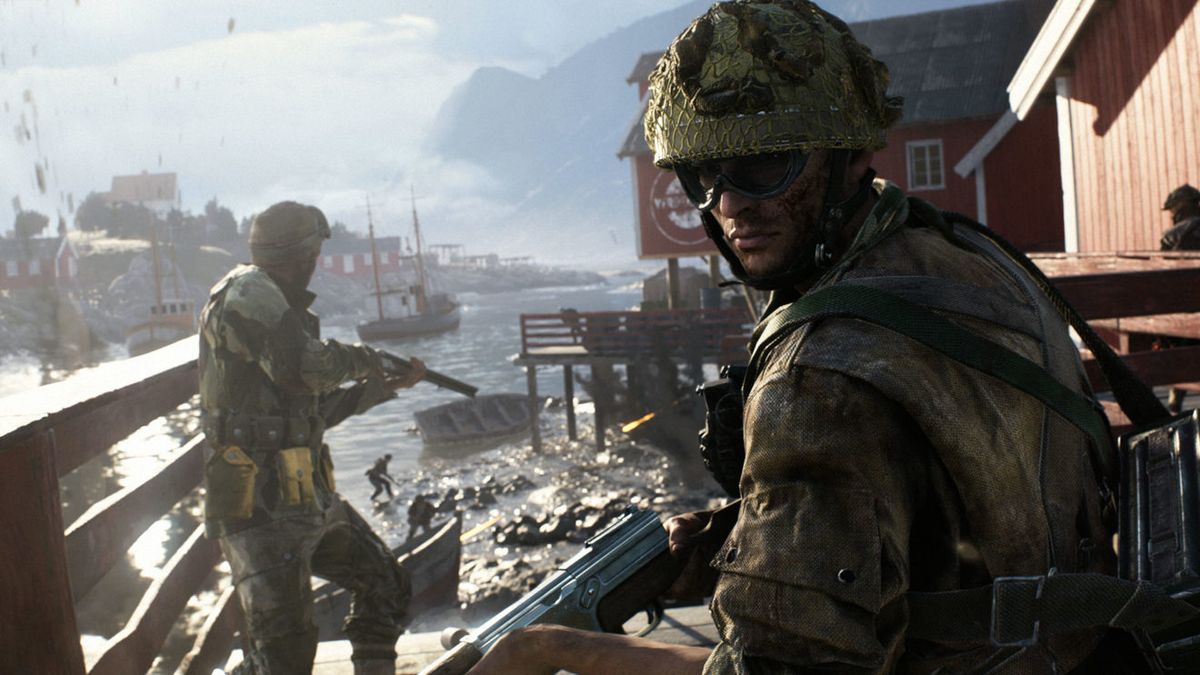 Criterion are best known for their work on the Need for Speed games, though they also had a majority hand in creating the Firestorm BR [battle royale] mode for Battlefield V.
Rounding out the squad is EA Gothenburg who will be handling the technology side of things – that usually means that they're looking at ways to push DICE's cutting-edge Frostbite engine forward.
General Manager of DICE, Oskar Gabrielson, wrote a short post on EA's blog that described exactly what each of the teams are up to. He says that the game is already playable with the teams playtesting the game every single day.
Gabrielson is confident that this year's Battlefield release will be a "bold step" forward for the franchise. He says:
"It has everything we love about Battlefield – and takes all of it to the next level. Epic scale. All-out military warfare. Crazy, unexpected moments. Game-changing destruction. Massive battles, packed with more players and mayhem than ever before. All brought to life with the power of next-gen consoles and PCs."
The post finished by promising that a full reveal is coming "Soon™". Judging from previous Battlefield reveals, it's most likely to be sometime in May.
What else do we know about the new Battlefield?
Prominent leaks have already hinted at what we'll be seeing in Battlefield this year. Industry leaker Tom Henderson has given us a seemingly constant stream of information about the ambitious project that the huge team is working on. He claims that it will simply be titled 'BATTLEFIELD'.
Battlefield will apparently be a spiritual successor to BF3 and 4. Set ten years into the future, it will emulate a modern warfare feel, with wiggle room to include some more experimental weapons and gadgets.
Levolution is also set to return with huge events having a massive impact on maps and the way each round plays out. According to Henderson, these events will lean heavily into natural disasters. We recently wrote about the sort of levolution events we'd like to see included in Battlefield 6.
Battlefield has always prided itself on its player count – 64 players in one match was always impressive at the time. But with BRs like Warzone and Fortnite easily accommodating 100-150 players, 64 just doesn't cut the mustard anymore. We don't know exactly how many players the new Battlefield will feature, but Gabrielson's comments in his blog post makes it sound like it will certainly be more than we're accustomed to.
Let us know how excited you are to see more of Battlefield 6 across our social channels.
[Featured Image Credit: EA Dice]
Don't forget, you can find some of these great games and more through the new GameByte Shop! The GameByte Shop is stocked up with the latest games, merch and accessories. We might even have a new-gen console or two! Sign up for our newsletter to be notified of our console drops. Please note the GameByte Shop is available for UK customers only.