Battlefield 2042 has half as many players at Battlefield V, a game that released over three years prior to the new entry from DICE.
Battlefield 2042 hasn't had a very good launch, with players expressing frustration over the state of the game. EA's communication hasn't been the greatest, leading players to grow even more annoyed over the last couple months.
Now, Battlefield 2042 is being beaten by Battlefield V, the previous game in the franchise. Looking at Steam charts, we can see that 2042 is consistently lower than V in player count.
Battlefield 2042 Players Are Low
On January 7th, the peak player count for Battlefield 2042 was 12,149. Meanwhile, Battlefield V reached a player count of 22,024. That's about 10,000 more players than Battlefield 2042 managed to get. And a similar story has played out every day since then.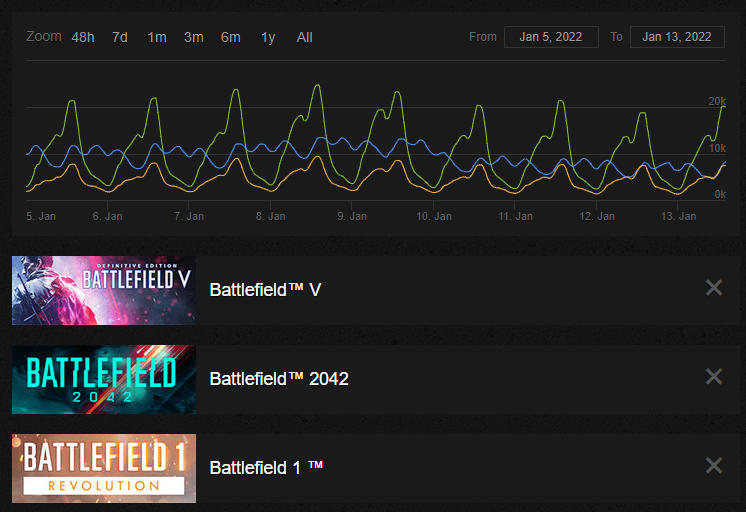 Through the week, that gap has widened to 11,000 players. Today, January 13th, Battlefield 2042 has 8,296 players while Battlefield V has 20,141. That's well over double the player count of the new title, which only came out in November 2021.
Additionally, Battlefield 1 is reaching similar player counts to 2042, though it isn't as popular as Battlefield V currently.
What does this mean for the new game? It's possible that EA may have to drastically overhaul it to earn players' trust back. Many players feel disappointed by the new entry due to various gameplay issues. For example, it lacks a scoreboard, a basic feature that should have been there day one.
Do you prefer Battlefield V or Battlefield 2042? Let us know on social media.
Shop with GameByte!
Don't forget, you can find some of these great games and more through the new GameByte Shop! The GameByte Shop is stocked up with the latest games, merch and accessories. We might even have a new-gen console or two! Sign up for our newsletter to be notified of our console drops. Please note the GameByte Shop is available for UK customers only.
[Featured Image Credit: EA/DICE]