The entire OG Scrubs cast reunited during Vulture Festival (November 17), and they all posed for an incredible reunion photo, reflected on the series and also discussed whether or not there would be any potential reboots coming up in the future.
When asked about whether or not he'd bring back all the cast to do it all over again, show creator Bill Lawrence revealed to The Hollywood Reporter: "I would do anything to get to work with not only this group [but the entire crew]… it was the best time in my life. [But] sometimes reboots — not all the time — feel like a money grab."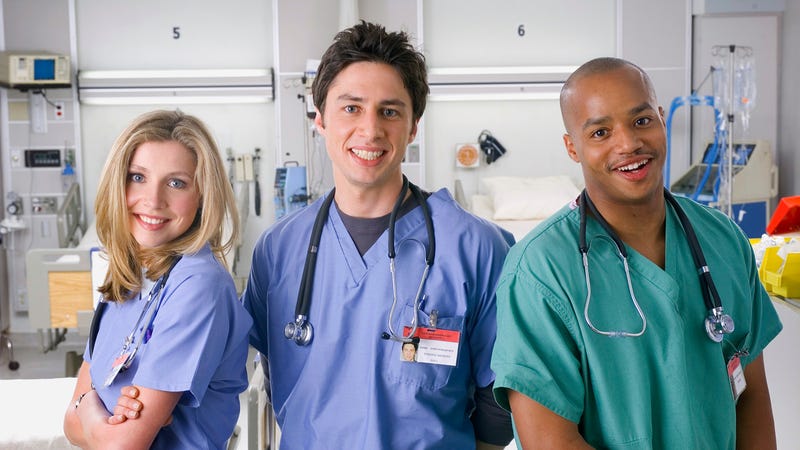 "If we ever do it, we'll do it as a short little movie or something else," he continued. "I think the problem from me is I would just want to see where everyone is. I would want to see where their marriages are [as opposed to a huge event]."
But despite saying that he wasn't too sure how the logistics would work, Zach Braff (who played the show's main character, JD) went ahead and teased the fans anyway with a picture of the entire cast saying "Season 10?", which as you can imagine just sent fans into one giant epic meltdown.
Season 10? pic.twitter.com/QihNsgmbAC

— Zach Braff (@zachbraff) November 18, 2018
One fan wrote: "Don't tease, we can only dream", while another fan commented: "Who's got two thumbs and wants to see this happen?"
I have binged Scrubs over 20 times now.. I can't tell you how many times the show has pulled me from dark times in my life and I am eternally grateful for the talent and love put into this show. I still laugh, and cry every time I watch. Thank you.

— EdEMonster (@EdEMonster) November 18, 2018
Watching Scrubs with a glass of wine was my weekly therapy after working long, rough nights @ the hospital. It felt so good to laugh!!! Laughter is the best medicine

— Wendy‍♀️ (@WendyLynne_) November 18, 2018
Would you be hyped if they decided to bring back Scrubs for one more series? Or would you prefer it left alone? Let us know in the comments below.