Mario Kart 8 Deluxe is getting a Boosters Course Pass DLC over the course of the next two years – here are all the tracks in the first wave.
The Boosters Course Pass contains 48 tracks in total, but the first wave will only have eight. Each wave will contain eight tracks, and they'll be releasing until the end of 2023. The pass will cost $24.99 but it comes with the Nintendo Switch Online + Expansion Pack membership.
The tracks are all remastered versions of previous tracks, including tracks from the latest iteration of the series, Mario Kart Tour. So, without further ado, here are the 8 new tracks in the first wave of DLC releasing March 18th.
New Tracks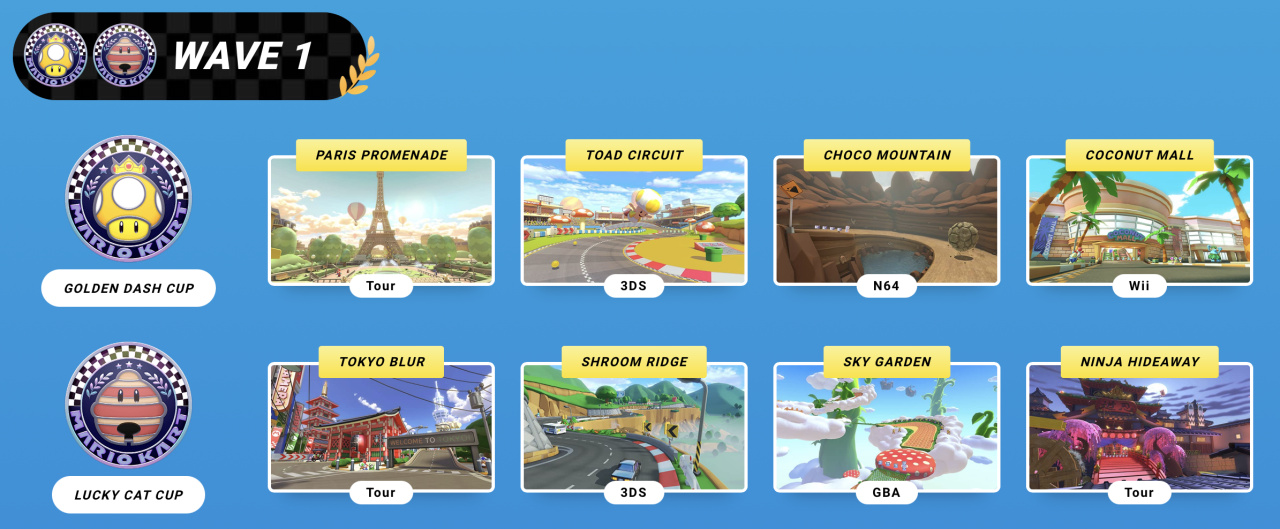 Paris Promenade (Mario Kart Tour)
Toad Circuit (Mario Kart 3DS)
Coconut Mall (Mario Kart Wii)
Choco Mountain (Mario Kart 64)
Tokyo Blur (Mario Kart Tour)
Ninja Hideaway (Mario Kart Tour)
Shroom Ridge (Mario Kart DS)
Sky Garden (Mario Kart: Super Circuit)
These are the eight new tracks coming to Mario Kart 8 Deluxe. Three of them are from Mario Kart Tour, while the others are an assortment of other mainline Mario Kart courses. Interestingly, there are no tracks from Mario Kart: Double Dash or the original Super Mario Kart. However, it's likely we'll get some in future DLC.
It seems like a lot of Mario Kart Tour courses are being ported over, which explains why there are so many courses coming out.
While this may be disappointing for those who were hoping for Mario Kart 9, 48 courses is a hell of a lot of content! I'm excited to see more classic courses back in Mario Kart.
Are you going to picking up the these Mario Kart 8 DLC tracks? Let us know on social media.
Don't forget you can find great games and more on the GameByte Shop! Our store is stocked up with the latest games, merch and accessories. We might even have a new-gen console or two! Sign up to our newsletter to be notified of our console drops, deals and more. Please note the GameByte Shop is available for UK customers.
[Featured Image Credit: Nintendo]